Antigone in Ferguson fuses dramatic readings of Sophocles' Antigone by acclaimed actors (including Samira Wiley, Tamara Tunie, Paul Giamatti, Frankie Faison, and others) with live choral music performed by a diverse choir, including activists, youth, teachers, police officers, and concerned citizens from Ferguson, Missouri and New York City, culminating in powerful, healing discussions about race and social justice.
The project ran for five weeks—September 13, 2018 to October 13, 2018—at Harlem Stage's historic gatehouse theater. All tickets were free, and we conducted heavy outreach to youth and other underserved communities in Harlem and throughout the city, as well as provided transportation to and from HarlemStage for select groups.

This production of Antigone in Ferguson was exclusively supported by the Stavros Niarchos Foundation whose generous support made it possible for audiences to experience this critical work, free of charge, at Harlem Stage.
Antigone in Ferguson at Harlem Stage Highlights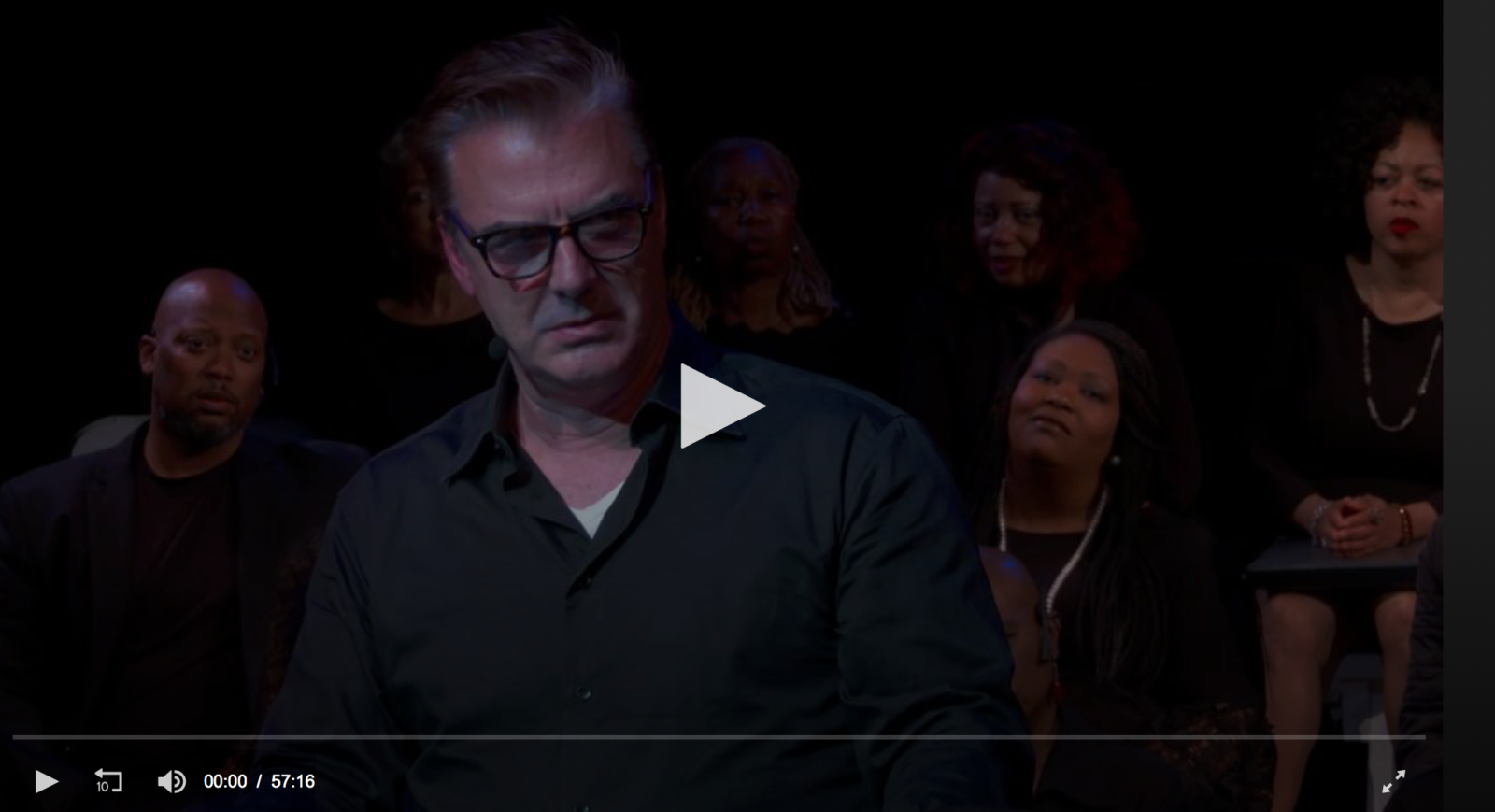 House Seats: Antigone in Ferguson
All Arts / 2019
Experience a powerful fusion of Sophocles' classic tragedy, Antigone, with live music from a contemporary gospel choir and highly personal community discussion. This multifaceted production explores themes of tragedy, trauma and social justice, and shows us that a 2500-year-old play is still relevant today. The all-star ensemble of actors includes Samira Wiley, Chris Noth and Tamara Tunie. Watch the full episode.
Meet the Antigone in Ferguson Choir:
Lt. Latricia Allen
St. Louis, MO / 2018
Meet the Antigone in Ferguson Choir:
Marcelle Davies-Lashley
Brooklyn, NY / 2018
Meet the Antigone in Ferguson Choir:
Duane Foster
St. Louis, MO / 2018
Meet the Antigone in Ferguson Choir:
De-Rance Blaylock
Normandy High School
Meet the Antigone in Ferguson Choir:
De Andrea Blaylock-Johnson
Ferguson, MO / 2018
Meet the Antigone in Ferguson Choir:
Willie Wooodmore
Saint Peters, MO / 2018
A Chorus Remembers Michael Brown in 'Antigone in Ferguson'
"It felt as if any barriers between the pity and terror evoked by atrocities of ancient days, and yesterday and tomorrow, never really existed. A chorus, whatever form it takes, is always with us, to witness and
remind." — Ben Brantley, The New York Times
Michael Brown and the Raw Power of 'Antigone in Ferguson'
"'Antigone in Ferguson' distills the Greek tragedy as a commentary on the urgent questions — including around police brutality and racism — resulting from the death of Michael Brown." — Tim Teeman, The Daily Beast
Facilitators
Dominic Dupont

Community Liaison

Read Bio

Dominic Dupont

Community Liaison

Dominic J. Dupont is a Native New Yorker born and raised in the neighborhood of Flatbush, Brooklyn. At the young age of nineteen Dominic was arrested, charged and ultimately convicted of murder. He was subsequently sentenced to a prison term of 25 years to life. In prison Dominic Learned the value of good programming and saw the benefits others were reaping from it. With this understanding and a goal of changing his perception and behavior Dominic immersed himself in a myriad of programs that helped him embrace the values of leadership, mentorship, empathy, compassion, and integrity. During his incarceration Dominic has held the titles of director, coordinator, facilitator, educator, and mentor.

After serving 20 years, 7 months, and 18 days in the New York State Prison system, Dominic was granted an executive clemency in December 2017, by NYS Governor Andrew Cuomo based on Dominic's leadership and positive impact with the prison system. Dominic was released on January 22, 2018, and immediately began implementing what he had learned during his incarceration to make himself an asset and resource to his community.

Since his release Dominic has shared his story, experiences, and analysis across multiple venues and to a variety of audiences, including Vice and HBO's documentary titled "Raised in the System". He continues to live the mantra, "A setback is a setup for a comeback," and has continued to engage communities across the country to find ways to learn from his story.

In conjunction with his various accomplishments, Dominic also holds an Associates in Psychology from Ashworth College.

All inquiries can be sent to jassendupont@gmail.com

De-Andrea Blaylock-Johnson

LCSW and Sex Therapist, St. Louis, MO

Read Bio

De-Andrea Blaylock-Johnson

LCSW and Sex Therapist, St. Louis, MO

De-Andrea Blaylock-Johnson is licensed in the state of Missouri as a Clinical Social Worker and has worked in the field of mental health since 2004. She is passionate about helping others achieve their goals and live as whole persons.

She is a graduate of both Saint Louis University and Washington University in St. Louis, and endeavors to positively impact all those with whom she interacts. As the owner of Sankofa Sex Therapy, LLC, she helps individuals and those in all types of relationships reach their goals.

She conducts workshops about sexuality and intimacy building and is an Executive Committee Member of the Women of Color Sexual Health Network.