Theater of War Productions and Brooklyn Public Library announced an extended 10-week run of FREE performances of Theater of War Productions' original project, Antigone in Ferguson, exclusively supported by the Stavros Niarchos Foundation. The partnership builds on the organizations' mission to engage diverse communities in discussions on the urgent issues of our time and to expand access to community-based services and resources across the five boroughs. Antigone in Ferguson opens on Wednesday, May 8 and continues through Saturday, July 13, 2019 at St. Ann & the Holy Trinity Church in Brooklyn (157 Montague St.). The 800-seat church will provide thousands of audience members the opportunity to join the public conversation and raise awareness of timely social issues.

For the past two years, Brooklyn Public Library has served as a key partner in Theater of War Productions' tenure as Public Artist in Residence for the Department of Veterans' Services through the Department of Cultural Affair's Public Artist in Residence program (PAIR). BPL will continue to provide critical support in marketing, audience curation, impact assessment and contribute to the development of new projects. In addition, through the ongoing partnership Theater of War Productions will extend its projects to an even broader cross-section of New Yorkers, engaging residents with artistic programming that is designed to destigmatize conversations around mental health, reduce isolation, promote greater connection among community members, and inspire positive action.
Following its longstanding support of Theater of War Productions, the Stavros Niarchos Foundation (SNF) will exclusively support the 10-week run of Antigone in Ferguson at St. Ann & the Holy Trinity Church, providing free access to 50 performances for all attendees. The Stavros Niarchos Foundation will also provide generous lead support for the Theater of War Productions and Brooklyn Public Library partnership and was the sole supporter of Theater of War Productions' two-year PAIR residency and the previous five-week run of Antigone in Ferguson at Harlem Stage.
Antigone in Ferguson was conceived in the wake of Michael Brown's death in 2014, through a collaboration between Theater of War Productions and community members from Ferguson, MO. Translated and directed by Theater of War Productions Artistic Director Bryan Doerries and composed by Phil Woodmore, the project fuses a dramatic reading by leading actors of excerpts from Sophocles' Greek tragedy with live choral music performed by a choir of activists, police officers, youth, and concerned citizens from Ferguson and New York City. The performance is the catalyst for panel and audience-driven discussions about racialized violence, structural oppression, misogyny, gender violence, and social justice, which serve as the core component of the event.
Antigone in Ferguson at St. Ann & the Holy Trinity Church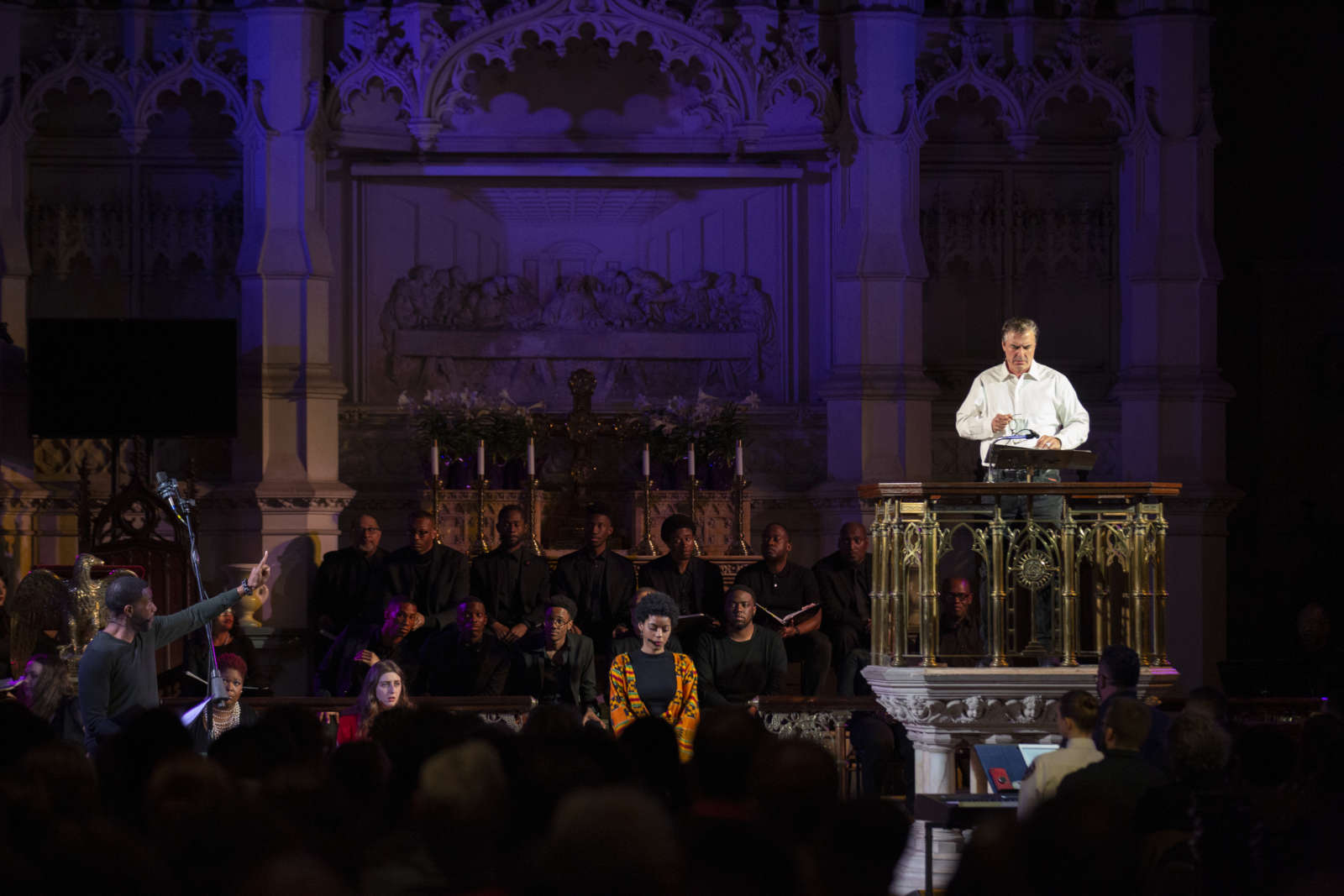 Jumaane Williams and Chris Noth
St. Ann & the Holy Trinity Church / 2019
Public Advocate Jumaane Williams plays Haemon, Chris Noth plays Creon in the first week of the 10 week Run of Antigone in Ferguson at St. Ann's.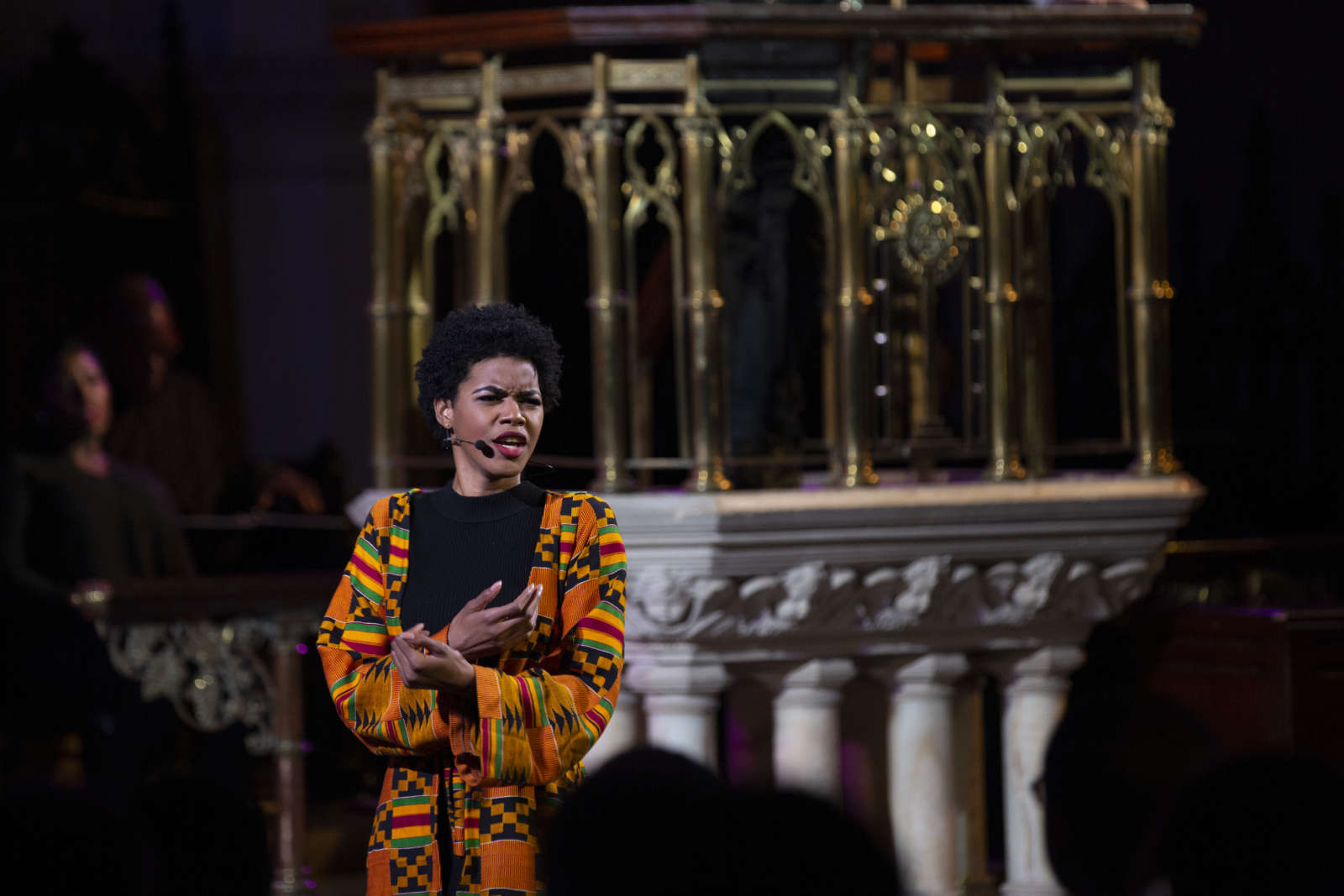 Diamond Jones as Antigone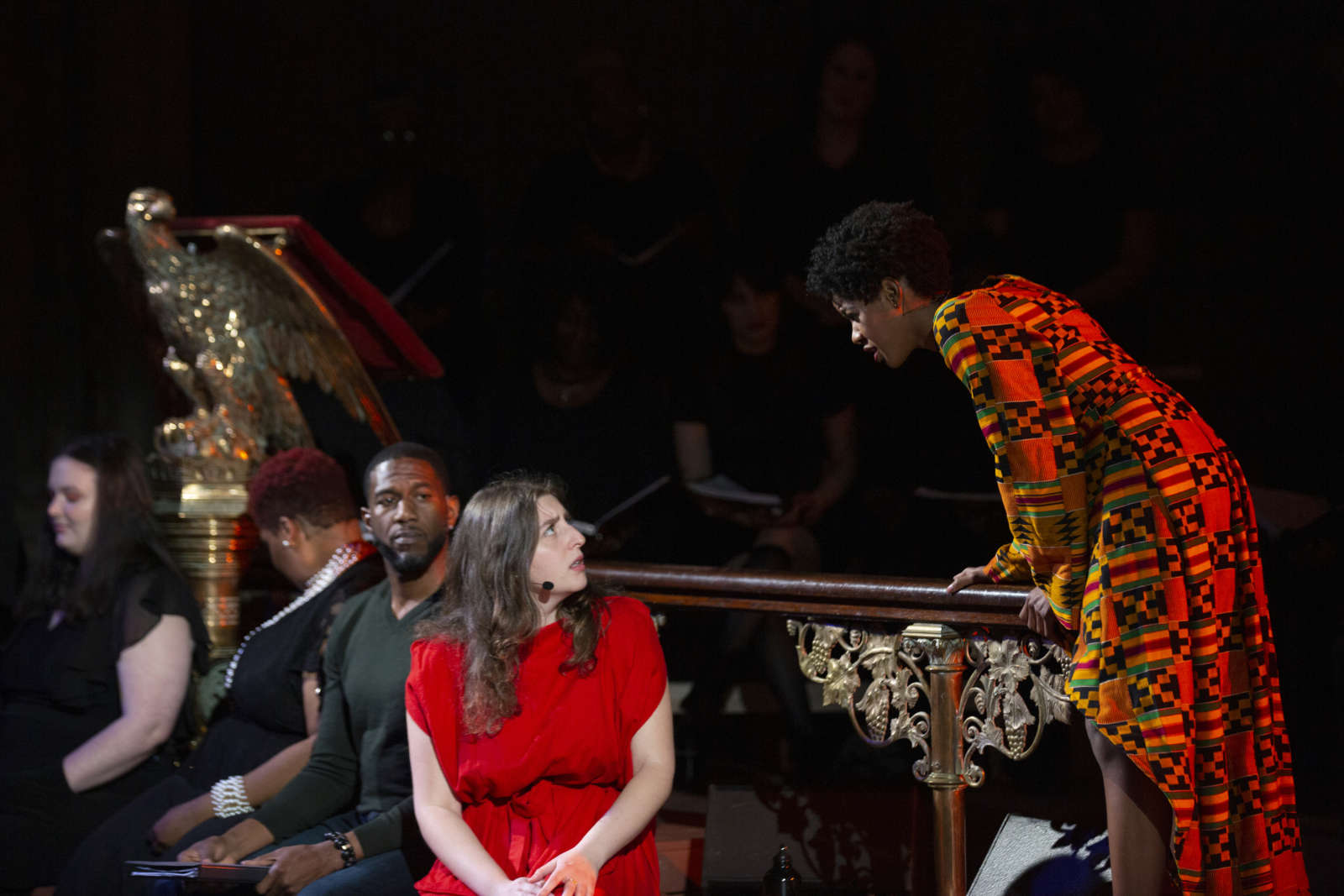 Marjolaine Goldsmith as Ismene Diamond Jones as Antigone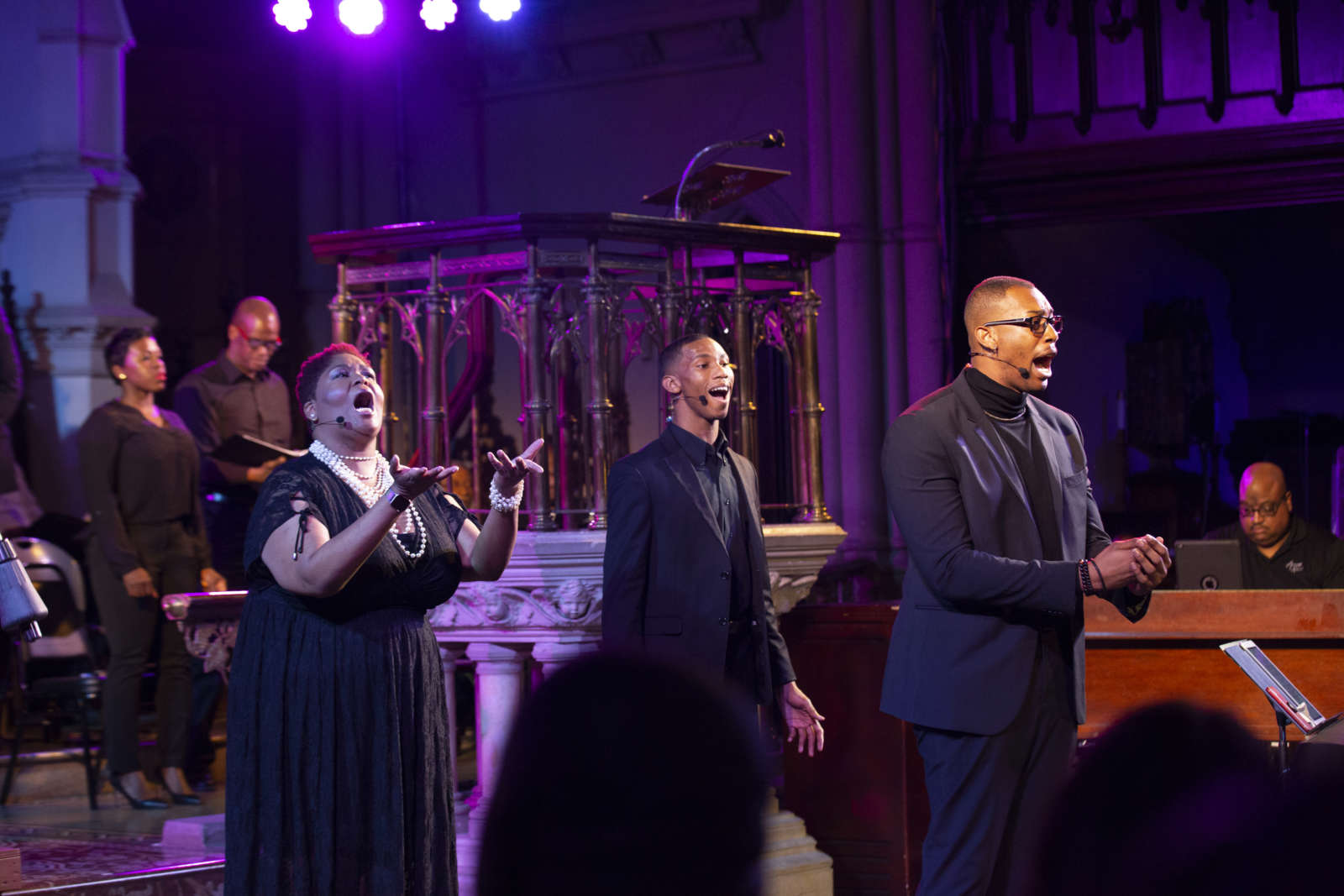 De-Rance Blaylock, Daniel McRath, and Gheremi Clay Singing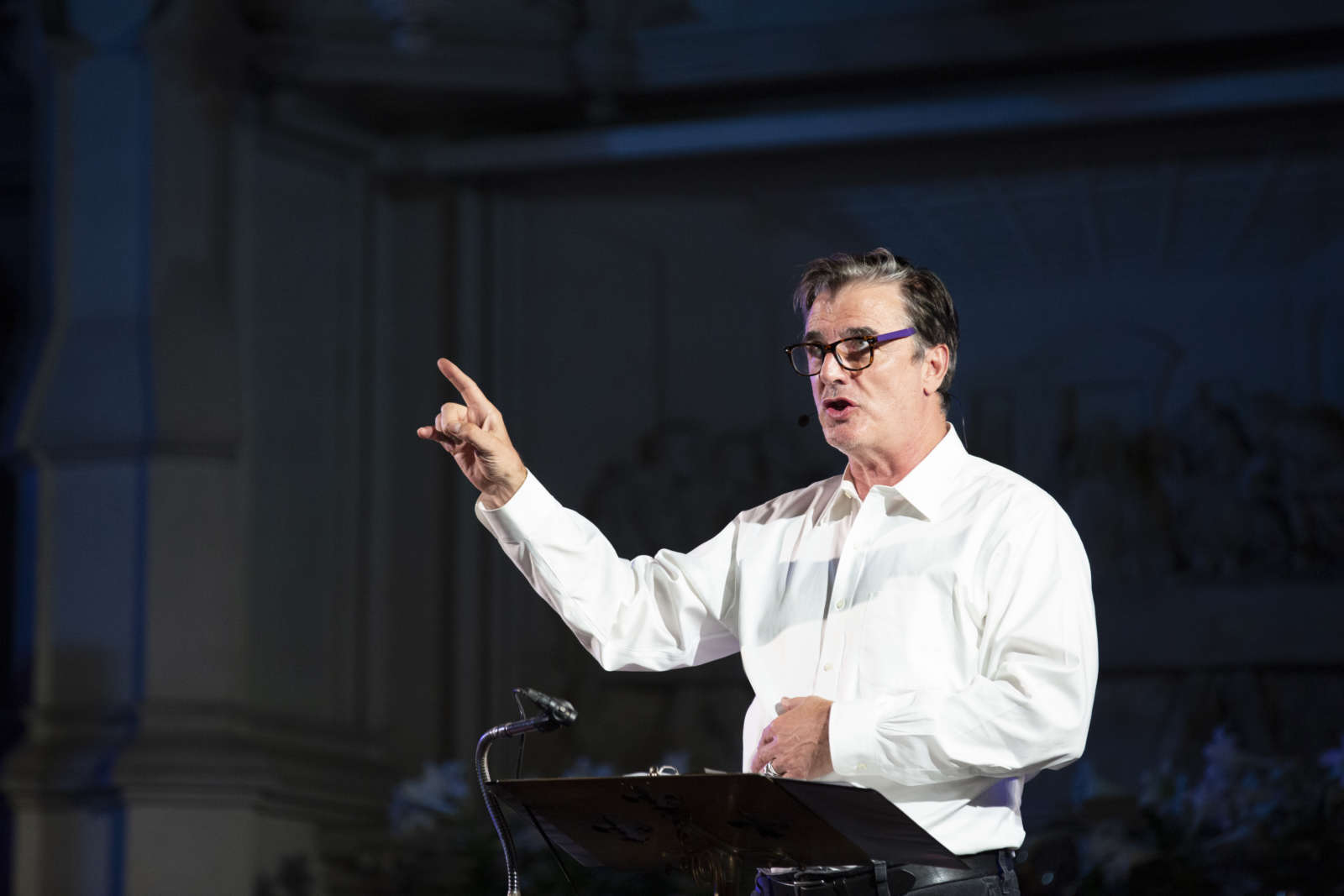 Chris Noth as Creon
Details
Dates: May 8-July 13, 2019 Wednesday through Saturday
Time: 7:00pm Saturdays: 2:00pm and 7:00pm
Runtime: 2 hours and 30 minutes
Location: St. Ann & the Holy Trinity Church, 157 Montague St. between Henry St. and Clinton St.
Tickets: Tickets are FREE but RSVP is encouraged.
For inquiries, please contact (917) 426-3233 or AIFinfo@theaterofwar.com
Translated and Directed by Bryan Doerries
Music Composed and Conducted by Phil Woodmore
In association with THE OFFICE performing arts + film
Antigone in Ferguson is made possible with the exclusive support of the Stavros Niarchos Foundation.
Facilitation
Dominic Dupont

Community Liaison

Read Bio

Dominic Dupont

Community Liaison

Dominic J. Dupont is a Native New Yorker born and raised in the neighborhood of Flatbush, Brooklyn. At the young age of nineteen Dominic was arrested, charged and ultimately convicted of murder. He was subsequently sentenced to a prison term of 25 years to life. In prison Dominic Learned the value of good programming and saw the benefits others were reaping from it. With this understanding and a goal of changing his perception and behavior Dominic immersed himself in a myriad of programs that helped him embrace the values of leadership, mentorship, empathy, compassion, and integrity. During his incarceration Dominic has held the titles of director, coordinator, facilitator, educator, and mentor.

After serving 20 years, 7 months, and 18 days in the New York State Prison system, Dominic was granted an executive clemency in December 2017, by NYS Governor Andrew Cuomo based on Dominic's leadership and positive impact with the prison system. Dominic was released on January 22, 2018, and immediately began implementing what he had learned during his incarceration to make himself an asset and resource to his community.

Since his release Dominic has shared his story, experiences, and analysis across multiple venues and to a variety of audiences, including Vice and HBO's documentary titled "Raised in the System". He continues to live the mantra, "A setback is a setup for a comeback," and has continued to engage communities across the country to find ways to learn from his story.

In conjunction with his various accomplishments, Dominic also holds an Associates in Psychology from Ashworth College.

All inquiries can be sent to jassendupont@gmail.com

De-Andrea Blaylock-Johnson

LCSW and Sex Therapist, St. Louis, MO

Read Bio

De-Andrea Blaylock-Johnson

LCSW and Sex Therapist, St. Louis, MO

De-Andrea Blaylock-Johnson is licensed in the state of Missouri as a Clinical Social Worker and has worked in the field of mental health since 2004. She is passionate about helping others achieve their goals and live as whole persons.

She is a graduate of both Saint Louis University and Washington University in St. Louis, and endeavors to positively impact all those with whom she interacts. As the owner of Sankofa Sex Therapy, LLC, she helps individuals and those in all types of relationships reach their goals.

She conducts workshops about sexuality and intimacy building and is an Executive Committee Member of the Women of Color Sexual Health Network.

Hailey Nolasco

Read Bio

Hailey Nolasco

Hailey Nolasco is a first generation Brooklyn resident of immigrants from the Dominican Republic. She is a public servant dedicated to advancing the ideals of integrity and social cohesion to increase public safety. Ms. Nolasco is a criminal justice reform advocate that focuses on furthering the advancement of women of color, reducing mass incarceration, ending gun violence, increasing youth empowerment, and creating safer, healthier, and more resilient communities.

In both her personal and professional life, she has worked on coalition building, policy analysis, strategic planning, program implementation and evaluation in public and not-for profit sectors at federal, municipal, and grassroot levels. Hailey is a results-driven leader with the proven ability to conceptualize and execute innovative, sustainable program initiatives. She has worked on creating interventions targeting domestic violence and gun violence and has developed and spearheaded programs to mentor and empower young women throughout the City.

Recently, Hailey has founded Civically Engaged, a community-based organization to
address the challenges and enhance the lives of young women of color who have been disproportionately affected by systemic oppression and help them recognize that CIVIC ENGAGEMENT is POWER! Having experienced adversity throughout her years as ayouth and as an adult, Hailey knows the importance of relatable positive influencers in the lives of young people to help get them back on track.

Hailey holds a Master's of Public Administration from the John Jay College of Criminal Justice, specializing in both Management and Operations, and Criminal Justice Administration, and has a Bachelor of Arts in Political Science from the College of Staten Island. Hailey is also an adjunct lecturer at CUNY Brooklyn College.